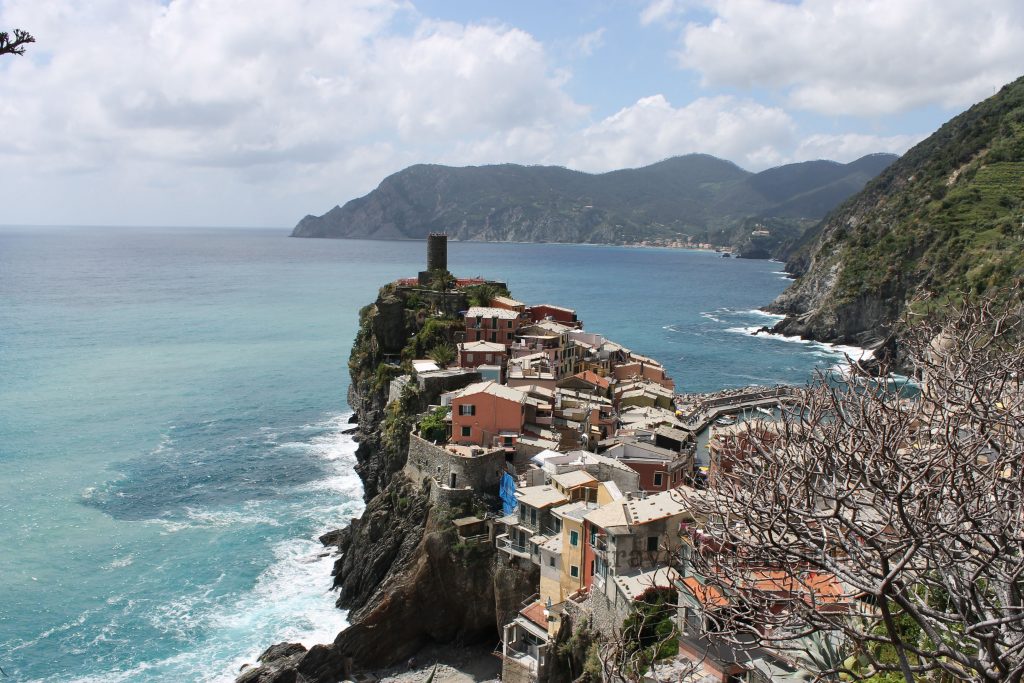 Cinque Terre /five lands/ is a string of five fishing villages perched high on the Italian Riviera which until recently were linked only by mule tracks and accessible only by rail or water. An ancient system of footpaths is still the best way to visit the five villages: Monterosso, Vernazza, Corniglia, Manarola and Riomaggiore.
The Cinque Terre is noted for its beauty. Over centuries, people have carefully built terraces to cultivate grapes and olives on the rugged, steep landscape right up to the cliffs that overlook the Mediterranean Sea.
The breathtaking views of harbours far below the wild but hospitable coastline along with the medieval fortresses and plentiful vines and vibrant colours make this a memorable holiday.
The Cinque Terre, recognized in 1997 by the Unesco Mankind's World Heritage, are today a National Park and Protected Marine Area with the aim of protecting this great cultural heritage and natural environment.
The five towns are connected by footpaths which connects all five villages. There is also a train- and boat connection between the towns.
Monterosso
Monterosso is the biggest of the five towns and has the most amenities. Many hotels are situated in the newer part, Fegina. In the old town you will find seafood restaurants and nice shops. Monterosso has the only long and sandy beach in the area where you can rent chairs and umbrellas or a kajak to explore the many coves around the coast.
Vernazza
Vernaza has a natural pier with an amphitheatre shape making it maybe the most photographed village of the Cinque Terre. In Vernazza there are only a few hotels to stay in but several B&Bs and private rooms for rent. The tiny port is surrounded by colourful typical Ligurian houses and the charming piazza is lined with good restaurants and bars.
Corniglia
Corniglia is located in the middle of the five towns. It is the only village which is not built directly on the sea but on a cliff 100 metres above sea level. Corniglia is probably the most genuine town of the five and with the least amount of tourists. Corniglia is connected to the other villages of the Cinque Terre by well kept footpaths and a train connection.
Manarola
Manarola has a tiny harbor with a boat ramp, picturesque multicoloured houses facing the sea and a tiny piazza with seafood restaurants. In Manarola starts the famous path Via dell'Amore (Lover's Lane) which is a very scenic path that leads you to Riomaggiore in only 20 minutes.
Riomaggiore
Riomaggiore is considered to be one of the most peaceful and quite villages of the Cinque Terre. Riomaggiore is basically a cascade of multi-coloured houses in the typical Ligurian style, all tightly clustered around a tiny natural harbour carved out in between the rocks.